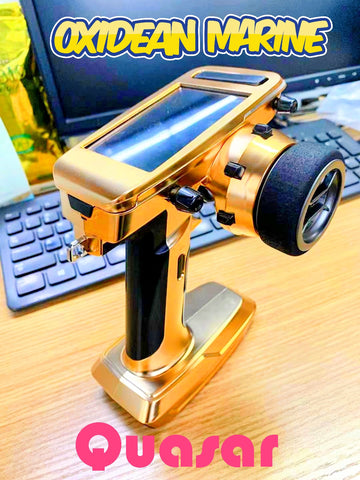 Quasar 9-Channel 2.4GHz Digital Radio with Receiver and GPS
Description
This is our Quasar 2.4GHz GPS TALKING Digital radio. Yes this radio Talks! Verbally tells you your GPS Speed, Voltage and other things! GPS Display Directly on the screen as well as high speed retention!
This radio has incredible range of 500 meters. Excellent upgrade for any RTR R/C boat. Works great with Proboat and Traxxas boats. This radio is by No means limited to boats. It has great features for cars, rock crawlers (4WS) and tanks (treads)!
Includes: (1) Quasar 9-Channel Transmitter, (1) 9-Channel Receiver, (1) External Voltage Probe, (1) Waterproof GPS Module/Speed Sensor, Quick Start Guide

Needed: 4x AA Batteries or 1S LiPo
Radio Name: QUASAR
Receiver#: RG209SG
Channels: 9
Working voltage: 3.5V~6V (1S LiPo MAX or 4x AA batteries)

Working current: 220mA
Application: RC cars, boats, tanks, etc.
Resolution: 4096
Frequency band: 2.4GHz (two-way)
Storage: 40 model memory
Language: English
Upgrade: USB online upgrade
Display: 3.5" 480x320 touchscreen
Voice: Voice Broadcast
SKU: OXM-50008