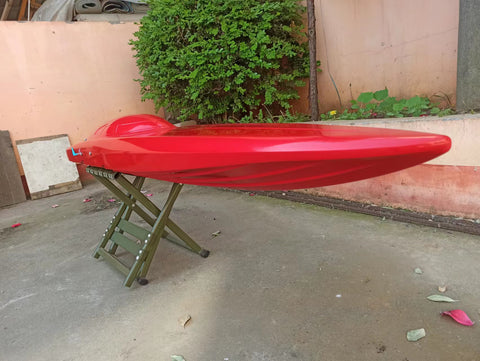 INTIMIDATOR 60" Mono RTR RC Boat
Description
Oxidean Marine Intimidator 60 inch Stepped Mono RTR R/C Boat with Quasar GPS Radio

This gigantic boat is the Ultimate! This is The most Powerful Ready To Run R/C Boat Ever produced. 6S operation, HUGE 70mm propellers. This hull gives more scale realism than Anything else produced. Massive 53mm motors on our Igloo series 300A ESCs. This power system is more advanced and Far more powerful than anything in its class. The efficiency of our 8-pole brushless motors is unmatched. The sound of these missiles is Indescribable. These are for the gentleman who wants to be King Of The Lake and be able to pull out an RC Boat that makes All others look like Pool toys. GPS Talking radio Included. Our boat has The Highest Quality electronics ever installed in a ready to run RC Boat. We stand behind these handcrafted masterpieces to make sure they are free of Any factory Defects or Mishaps possibly attributed to our workmanship, craftsmanship or machining. We will make sure you get off to a good start. 
Bulletproof Thick layup Carbon/Kevlar hull
Precision Outdrives. We put them as close together as possible to create a Combined thrust that is more efficient and powerful. This also aids in Cornering.
Carbon\Kevlar Hull
Length: 60" (1524mm)
Width: 15" (381mm)
Motor: Twin Oxidean Marine "Dynamo" 53100 1450kV 8-pole Brushless Motor
ESC: Twin Oxidean Marine OM-300AHV Igloo Series 300A RC Boat ESC
Servo: Oxidean Marine OPS-L01 High Speed High Torque Fully WP Chromoly Gear HV Servo
Radio: Oxidean Marine Quasar 9-Channel GPS Talking Radio
Items Needed:
2x 6S LiPo Batteries (minimum 50C) with EC8 connectors
Battery Charger
4x AA Batteries or 1S LiPo Battery for Transmitter
Graphics sold separately
Rudder and shafts are unbolted and removed for shipping.
25% restocking fee for cancellations or returns.
SKU: OXM-RTR-15