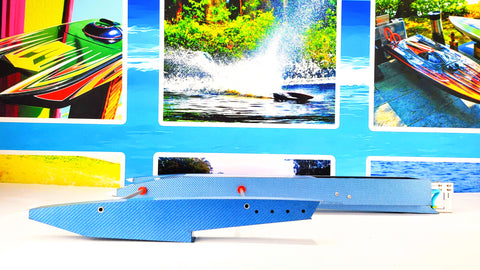 SCORPION ARTR Carbon Fiber Rigger RC Boat - Assorted Colors
Description
Oxidean Marine SCORPION ARTR Carbon Fiber Rigger RC Boat in assorted colors
Carbon Fiber Hull
Length: 34" (863mm)
Width: XX" (XXmm)
Motor: Brushless Oxidean Marine 4074 2000kv 4-pole
ESC: Oxidean Marine Seaking 180A 2S-6S LiPo HV
Servo: Oxidean Marine OPS-L01 High speed High torque Fully waterproof Chromoly gear HV 
Radio: NONE
Prop: 4519
These riggers themselves are both NAMBA and IMPBA legal for both PLTD and P-Hydro racing. Not only are they Legal but they are Lethal to the competition! Not just for racing. Anyone who has the desire to run the Fastest form of an rc boat should Jump at the chance to own one of these Hand built Hand varnished Masterpieces. 
Installed motor is legal for P racing. PLTD rules vary and change often. For PLTD consult your local district for rules
Needed to Complete:
Radio/Transmitter (2-channel minimum)
Receiver (2-channel minimum)

4S or 6S 5000mAh LiPo Battery
Battery Charger
AA Batteries for Radio/Transmitter
25% restocking fee for cancellations or returns. NO RETURNS on used products.

SKUs: Silver: OXM-90039, Blue: OXM-90040, Gold: OXM-90041, Black: OXM-90042, Pink: OXM-90043