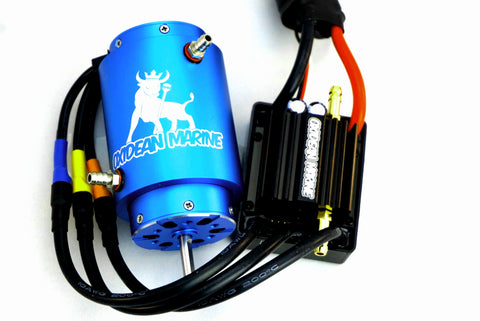 RC Boat Motor/ESC Combo - Oxidean Marine 2200kV 4082 6-pole Motor/Hobbywing Seaking 180A ESC
Description
4082 2200kv 6-pole Motor & 180amp ESC Combo
Motor Features
This strong brushless motor is an excellent upgrade for most popular ready to run boats. This is the motor that comes in the Dominator. Its robust power and cool running temperatures are sure to impress anyone from beginners to seasoned racers.
2200kV
Precision bearings
High Strength neodenyum magnets
Cooling jacket included
5mm shaft
180A ESC Features
No Worry, Waterproofing
Want to drive during tough weather like pro racers? With our brushless series, you no longer need a traditional waterproofing box. Our ESC is completely waterproofed so you save not only compartment space, but also keep vehicle weight low.
External programming port
The external programming port allows easy connection to a HOBBYWING Program Card when setting up the ESC anytime, anywhere. The portable Digital LED Program Card is especially convenient for outdoor use.
Latest Technology
Patented Copper Heat Conduction technology and a high-efficiency water cooling system easily dissipate the heat produced under high load operation.
Multiple protections
Low-voltage cutoff protection, thermal protection and throttle signal loss protection all make the ESC more reliable.
Specs

Cont./Peak Current
180A/1080A
Boat Applicable
Boat length < 130cm
Input /
2-6S LiPo with EC8 Connector

BEC Type / BEC Output
Switch Mode /6V/5A
External Programming Port
Available
Water Cooling Pipe
(Inside / Outside): Ф3.0 / 5.4mm
Input wire

Red-10AWG-200mm*1
Black-10AWG-200mm*1

Output wire
Black-10AWG-150mm*3
Size / Weight
72X48X36.6mm (Include the Water Cooling Pipe) / 207g
Excellent waterproof design (rates as IP 67) allows this ESC to work in water without any extra precautions.
High quality components have very strong over-current withstanding capabilities.

Patented Copper Heat Conduction technology and high-efficiency water cooling system can easily dissipate the heat produced in operation under high load.
The special firmware designed for RC boats can make the acceleration punchier and the sailing more stable.
The external Programming Port can connect to the LED Program Box for easily setting the parameters of the ESC.
Multiple protections like low-voltage cutoff protection, thermal protection and throttle signal loss protection make the ESC more reliable.
High Current EC8 Connector