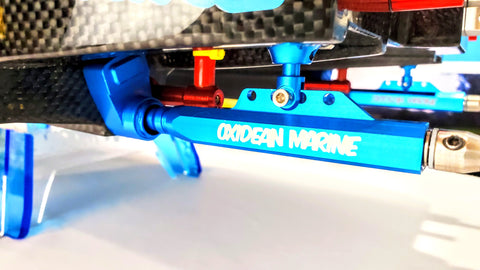 Rc boat Catamaran outdrives Oxi-Drive ball bearing Telescoping (pair) Blue, Gold, Silver, Red
Description
What we have here are our patented Oxi-Drive cat twin outdrives.
These come in pairs (2) and feature 4 NSK precision Stainless Steel abec6 ball bearings.
Length is adjustable via our patented Threaded body which enables precise adjustments.
Mounting positions can be changed via our 5 mounting positions. Angle is also adjustable.
They are a Direct fit for Animal, Zonda, and Genesis. Others may need custom fitment.
Bearings accept standard 3/16 shafts. Shafts may need to be taken down 1/1000th by turning the shaft in a drill chuck and managing with 400 grit wet sandpaper then polishing with a standard metal polish.
Instructions in video. Recommended for boaters with experience in changing shafts. Bearing maintenance required.
SKUs: Blue: OXM-00059 (Old SKU: OXIAN001B), Gold: OXM-00060 (Old SKU: OXIAN001G), Red: OXM-00223, Silver: OXM-00224